Australia
In 2014, CBRE found that Australia ranked no. 1 on actual property investments vis-à-vis the other Asia Pacific countries in its inaugural Asia Pacific Investor Intentions Survey. The survey, which had garnered a sizeable response, was targeted at fund/asset managers, listed property companies, pension funds, insurance companies and sovereign wealth funds. Not surprisingly, gateway cities such as Sydney and Melbourne were ranked very highly (3rd and 4th place just after Tokyo and Shanghai) in relation to city investor preference.
Australia Foreign Investment Review Board revealed that Chinese investors ploughed A$12.4 billion into residential investments in 2013-14 — more than double the investment from the US and more than double the A$5.9 billion invested in 2012-13. Besides the residential market, commercial investment in Australia is also booming. According to a report from KPMG, 46% of Chinese direct investment in Australia was in commercial real estate at a value of A$4.3 billion in 2014. This literally quadrupled the investment volume of 2013.
A plausible explanation for this intense attractiveness is that China and Australia have been working on a Declaration of Intent for a Free Trade Agreement (FTA) which culminated in a signing on 17 November 2014. This raised the threshold for private, non-state-owned investment from China in non-sensitive sectors (such as property). The FTA, which is likely to be completed towards the end of 2015, is expected to accelerate the flow of Chinese investment funds into the Australian property market.
This is consistent with our current read on the market that investors seeking to diversify away from concentrations in fixed-income and equity are increasingly turning to property investment as a source of strong stable income streams and long term capital appreciation. Fortuitously, improved transparency, data, and performance measurement have also helped broaden the appeal of property investment in recent years. Incidentally, Australia has been ranked no. 1 in Jones Lang LaSalle's real estate transparency index for over a decade.
There are a number of pull factors at play fuelling property investment in Australia. Amongst which is the fact that the country has four of the 10 most liveable cities in the world according to the World Property Journal,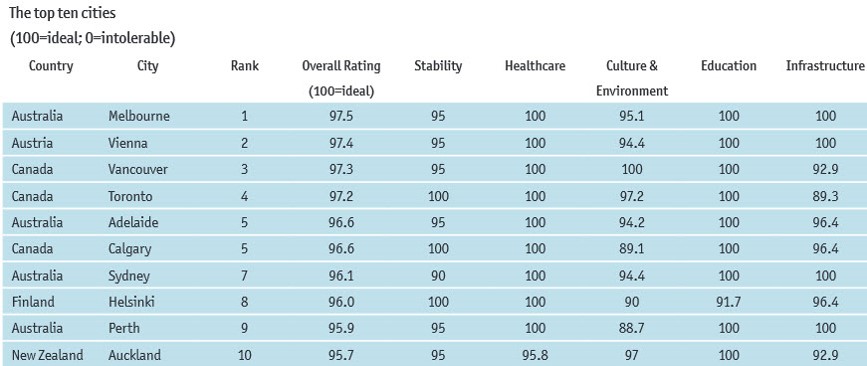 Against the backdrop of these Australia cities being ranked highly in terms of living conditions in the near future and favourable macro-economic policy between Australia and China, the Australia real estate is likely to continue to offer long-term certainty.
😀